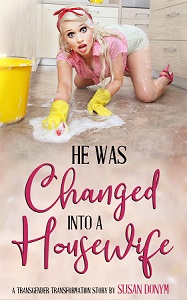 Danny Trent is a husband and father, the proud and unchallenged man of the house... until he suddenly isn't. One morning Danny wakes up alone in a windowless pink cell, finding that he's somehow swapped bodies with his beautiful young wife Charlotte. He's not sure who's behind all this, but they seem determined to brainwash him into becoming an old-fashioned, cookie-baking housewife in a frilly apron and a pretty pink dress. Will Danny be able to resist, or will he give in and begin a new life as an obedient little wifey?
Susan Donym, author of the classic transgender transformation stories
He Became a Farmgirl
and
Calista: A Transgender Transformation Novella
, returns with what may be her most thrilling book yet.
He Was Changed into a Housewife
captures all of the vivid, humiliating details of Danny Trent's feminization. We're there with him every step of the way as his willpower fades, his masculinity is stripped away and he finds himself slowly becoming a housewife straight out of the 1950s, eager to cook, clean and do whatever it takes to please the new man of the house.
CLICK HERE to read HE WAS CHANGED INTO A HOUSEWIFE: A TRANSGENDER TRANSFORMATION STORY